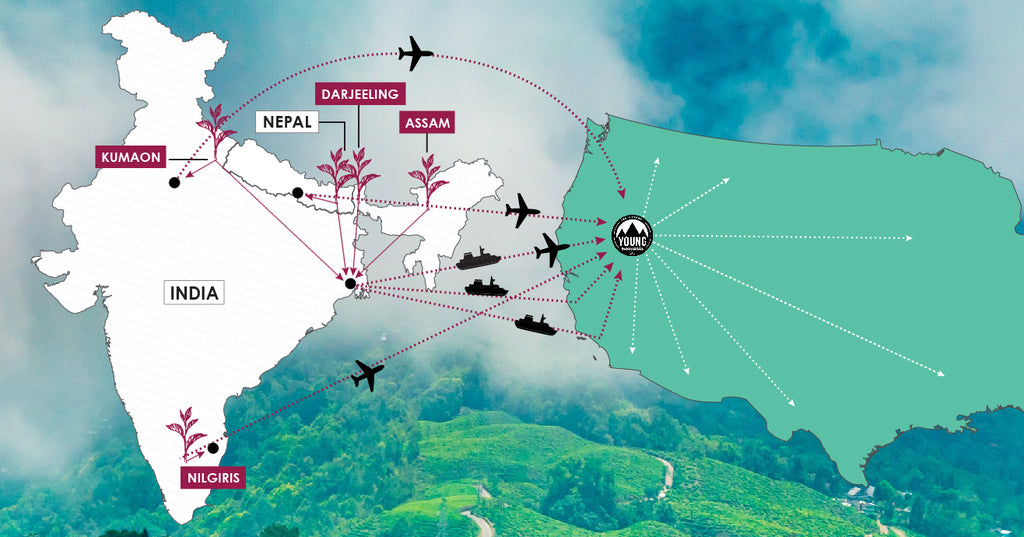 A common question we get is, "How does a tea end up in your collection?" In fact, this was one of my first questions, when I joined the Young Mountain Tea team as an intern in May. I discovered there's a lot that goes into bringing high-quality leaves from the Himalayas into your cup! Let's explore together.
Like a "Silver Needle" in the Haystack
When I first started working with Young Mountain Tea it felt as though Raj knew everyone in India and Nepal. How else could we be sourcing from 10 different suppliers, in five different regions? But India and Nepal are large tea producing countries. India alone annually makes 1.2 billion kilograms of tea from more than 639 thousand hectares of mostly mountainous terrain. Though there are endless options for tea sourcing from the Himalayas, in order for a tea maker to meet our standards, it feels like looking for a needle in the haystack…
Because our mission is to work with Indian and Nepali communities to raise the quality of their tea, so they can earn more and raise the quality of their lives, our ideal partner is a values-aligned tea maker, sourcing certified-organic (or organically grown) leaf from small-holder farmers. We give bonus "points" to those places where the farmers also own the tea factory! And because we want to help those tea makers break into the US tea market, our perfect partner is also open to mentorship from global tea experts. This narrows our search to less established tea gardens, harder to discover from halfway across the globe. So how do we make it happen?
Some of our partners are a result of serendipity, fortuitous meetings that seem to materialize when traveling in the Himalayas. Raj visits India twice a year to meet with our established farm partners and scope out cool new teas to add to our carefully curated collection.
These kinds of meetings make the best stories. But the most common way we find tea producers is by recommendations and introductions from partners. Stewarding meaningful relationships with folks in all parts of the tea industry—from tea farmers, tea producers, exporters and importers, and other global tea gurus—helps us meet those who would be hard to find otherwise. The tea industry is vast, yet tightly connected, and we're lucky to have so many mutually supportive relationships.
Though finding strategic tea sources is the first step when getting a high-quality, socially and environmentally conscious cup of tea to the consumer, it is certainly not the last.
5 Steps to the Perfect Cup
Through our relationships, and sometimes a little bit of right-place-right-time magic, we uncover farms doing environmental, social, and economic development work through tea. Yet finding the right tea to add to our collection is a whole other matter. That's because when it comes to tea, the quality of the tea has to be as exciting and inspiring as its production. When we add a tea to our collection, it has undergone a five-step selection process that looks at many different factors to ensure that when the tea gets to you, you can taste the care in every cup.
1. Introduction, Conversation & Research
Our process starts with an initial introduction to a farm that is strengthening the economic and environmental sustainability of tea farming in its region, while also raising the standard of living for its farmers. After an introduction and initial conversation, we often do more independent research and speak directly with individual farmers. Some of the things we're looking for in new partners include: whether the tea makers and tea gardens are interested in serving as a mentor/mentee, having women on their leadership team, ability to produce the quantities we need to meet customer demand, organic certification (or organically grown), and responsiveness to our communications.
2. Sample Requests
If we have established that a tea maker is aligned with our mission, we'll request samples from them. Getting samples can be as quick as a few days, or as long as a few months. We try to stay patient as we wait to try new teas—a hard task for ardent tea lovers!
3. Tasting
This is the most fun part! When the samples arrive, our team gathers in the office and does a cupping session together. Tea cupping is an official way to taste tea. During the cupping, we ensure a fair analysis by using consistent volumes and temperatures of water and steep times. If you're interested in tasting teas like us, check out our Professional Cupping Kit.
4. Pricing
Our goal is to offer tea that is the highest quality and a good value. But it's important that the tea's price in our online collection not undermine the farmers who work so hard to harvest it. Our pricing requires that everyone in the supply chain is fairly paid. Once we find a tea that is both delicious and unique, our next step is to figure out whether the price we will need to charge will be accessible for our customers and a reasonable representation of the tea's value.
5. Decision
We all have a say in the final call. As an intern, I was in charge of choosing a tea from Sri Lanka to go into our 2022 Summer Tea Subscription Box. I was overwhelmed by the responsibility, until I realized I was only responsible for facilitating the group's tasting and conversations, and the final decision would be made by consensus. We choose teas that we can all appreciate as a complex and high-quality cup, despite our different tastes and tea preferences. Taste, price, partnership potential, value alignment, and a gut feeling of "we have something really special here!" wins the tea a place in our collection.
The Role of Supply Chains
Once we have a tea picked and ordered, it's no simple process to get the tea from the Himalayas to our Oregon headquarters. However, it's this part of the journey where some of our most impactful work is done.
The typical tea industry supply chain has many intermediaries: Tea growers > Tea processors > Brokers > Exporters > Importers > Distributors > Wholesalers > Retailers > Consumers. We remove as many intermediaries as possible, cutting costs and allowing us to pay the farmers and tea producers more. By sourcing directly from tea makers, we encounter lots of complexities (so many different tea makers to communicate with!), but we do it because it creates better livelihoods for the farmers and tea industry as a whole. 
It's not always possible for us to remove the intermediaries completely. When that's the case, we partner with larger, more established tea importers. They buy the tea on our behalf, and then we buy from them as we need. It's always our goal to pick partners who share our values, and we use these connections to help build relationships between small tea farmers and larger American tea importers.
Direct sourcing also enables a super transparent tea supply chain and allows us to have more confidence in the consistency and quality we are bringing to consumers.
As specialty tea continues to grow in popularity, we are inspired by the huge potential to raise the living standards for rural farmers through direct sourcing. When you drink a cup of our Organic Nepali Golden Black or Organic Kumaon Black, enjoy every sip knowing that you are also a part of this change.
You also might enjoy:

Blog Author: 
Maddy Leong Corich, Sales 
Maddy has had an "Earl-Grey-for-breakfast" habit since high school, but she really fell down the tea rabbit hole in college. Her love of loose-leaf, along with a passion for supporting people and the planet, led her to Young Mountain Tea. She feels very lucky to work with a company whose mission nourishes her soul, and keeps her well caffeinated! When she is not following sales leads or polishing social posts, you can find her in the woods, enjoying gong-fu cha and reading books.