How COVID-19 Impacts Growers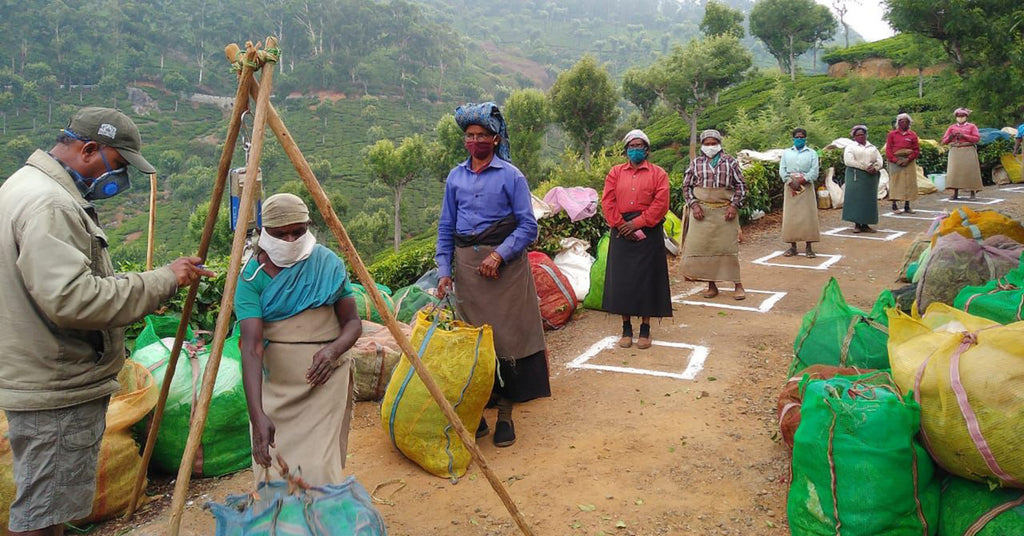 Our tea growing partners across India and Nepal are like family. In "normal" times, we spend springtime in their gardens, touring their farm operations, staying in their homes, and drinking the year's first lots of tea that we then import for our online shop. We have enjoyed home-cooked meals together--sauteed greens, egg curry, spicy lamb biryani, freshly fried puri...and so much achaar (spicy pickled vegetables). While we can't visit right now, we are fortunate to be able to stay in touch.
A question we've heard from many customers is, "How have Young Mountain Tea's partners fared amid this global pandemic?" It's a complicated answer. In short,  some have been able to move forward with the spring harvest's first flush. Some have not. As we receive more info from our friends across the globe, we'll be posting updates below.
Southern India Tea Harvest Resumes
We recently connected with Indi and Muskan, the father-daughter team that runs Tea Studio, crafting unique teas like Nilgiri Gold and Nilgiri Forest. "To say it's been tough times is an understatement," said Indi, Tea Studio's owner. "Tea estates are having to cope with issues that one would never have imagined they would face."
Nestled in the beautiful Nilgiri foothills of rural southern India (in a town called Coonoor), Indi and Muskan oversee their state-of-the-art tea processing and educational facility, a clean-lined glass structure with soaring ceilings and red trim that's surrounded by sunlit terraced tea fields. During "normal" times, they incorporate traditional Chinese methods into their tea production. 
Are locals still able to pluck tea?
While the lockdown in Coonoor began on March 24, larger processing facilities in the area opened again on April 15, giving nearby farmers time to figure out how to harvest tea while respecting the new social distancing requirements. Tea Studio focuses on only micro-batch productions of high-quality tea destined for premium tea shops around the world. With many of those tea shops closed, operations for the boutique factory have slowed.
What safety precautions are being enforced?
"Social distancing on an estate with large numbers of pluckers harvesting the leaf seemed previously unimaginable," Indi said. "But with the 'muck' having hit the fan really hard, unorthodox solutions are now the new normal. Faced with a fait accompli, tea estates have had to adapt."
The large tea estates are only allowed to employ 24% of their workforce. New procedures include maintaining a physical distance from one another, wearing masks and gloves, and regularly using hand sanitizer. Tea processing facilities are also doing health checkups at the start and end of each working day.
Are Tea Studio staff still getting paid?
"In our small area, the workers fortunately haven't been affected too much," said Muskan, Head of Operations. "In fact, we're still paying their full salary, so they don't feel the pinch of a situation that is out of everybody's hands."
While the Tea Studio team is taken care of, other tea workers in southern India aren't so lucky. "The daily wage workers are the most impacted by this situation," Muskan said. "They have no savings, and most housing is provided by employers. For these people to get back on their feet, it will be very difficult, as each day without work is a setback for them."
What are your greatest hopes regarding the outcome from this pandemic?
"I sincerely hope our government will be able to manage a pandemic in a more sophisticated and organized way, God forbid it ever happens again," Muskan said. "The tea industry as a whole has been looking after its workers pretty well in this situation, which is a silver lining in itself. The fact that families have become closer, friends are making an effort to keep in touch and the rat race has slowed down is definitely a silver lining for me."
What's life like in India right now?
"I have to say, living in a small town like Coonoor sure helps," Muskan said. "Even though supplies are limited due to transport restrictions, the fact that we have beautiful scenery and fresh air to breathe is nice. I'm sure it's a lot worse for people who are locked up in tiny apartments in big cities."
"All I can say is...to stay well and, regardless of it all, keep smiling," Indi said. "While, for now, we can't see it, there is a light at the end of the tunnel."
Kumaon Tea Harvests Continue as Planned
We're pleased to share this update based on our latest chat with Desmond Birbeck, Champawat Tea Manager, who oversees the tea growing and processing of all of our Kumaon loose-leaf teas. We caught him as he was wrapping up the first day of harvests for the year, and, true to form, he was excited to be back in the tea garden with his team.
Are tea workers still getting paid?
Yes! All tea workers are guaranteed their same rate of pay, regardless of whether or not they're able to work. They'll continue to get paid monthly (their typical paycheck frequency), and their wages are guaranteed for the duration of the lockdown.
When will Kumaon begin its spring harvest?
It's already underway! The "first flush," which happens over a period of weeks and represents the very first tea harvests each spring, is much anticipated by tea farmers and tea drinkers. The teas that come from the first flush are often customer favorites. First flush teas are characterized by delicate yet complex flavors that lend themselves to top-quality white teas and lightly oxidized blacks.
Luckily, because Kumaon is situated in the colder, northwestern part of the Himalayas at a relatively high elevation, the region's first flush happens later in the spring than in other tea growing areas in India (like Darjeeling). The start of the year is a moving target, and this year, the tea bushes put out their first shoots in the second week of April. This is a little later than usual, a result of late winter rains. The slight delay caused by the weather gave Desmond and his team enough time to make a game plan: to figure out how to adjust their operations so that they could safely pluck and process tea and secure the required permits to do so. On the day we spoke with Desmond, his team had just plucked 300 kilos of green leaf, which is enough to make about 100 pounds of Kumaon White Tea for our shop!
Is Kumaon experiencing any challenges with the harvest?
From a supply chain perspective, the hardest part is transportation. Interstate trucking is banned, and although the law says food products are allowed to be carried on trucks, truck drivers are meeting resistance from law enforcement. 
To ensure the health of their workers and safety of the tea they're handcrafting, Desmond has made changes to their procedures. Pluckers now must stand 10 feet apart in the fields, wash their hands even more frequently than normal, and wear masks at all times while picking and processing tea.
What's daily life like post-shutdown?
Desmond shared that the direct impact of coronavirus is difficult to distinguish from Indians' normal fight for survival. In general, village life is highly communal; the houses are built in clusters, and families rely on one another. In an area where food security is a constant challenge, farmers don't have the luxury of going to a grocery store or market. As a result, people in rural areas like Champawat, which is nearly 12 hours from Delhi (the nearest major city), are not practicing social distancing.
For years, rural communities in India have experienced massive migration of young adults to cities, where more economic opportunities exist. This is one reason why Young Mountain Tea began in the first place--to restore rural livelihoods, to help family units (incredibly important in India) stay together, to give people economic means to stay in their hometowns. Due to COVID-19, Champawat is now experiencing the opposite of urban migration. With many people returning from Goa, Gujarawat, Maharashtra, Delhi, and the Middle East, the rural population has exploded. Many of these people have left cities for their hometowns due to  closures of factories, hotels, and restaurants. The estimated 2,000-3,000 people returning to Champawat from urban areas are quarantined for two weeks. If they don't show symptoms, they'll be "let loose" (Desmond's words) into the general public. 
The state of Uttarakhand has two COVID-19 testing centers, the nearest one being in Haldwani, about eight hours from Champawat. Desmond said he had heard people with symptoms who need testing are mailing nasal swabs to these testing centers.
Born the grandson of British immigrants who moved to the region during the 1930s, Desmond continues to run his family's organic tea garden with many plants from the original Kumaon experiments--now more than 150 years old. As one of the people involved in pioneering the second wave of Kumaon tea, Desmond is a force for positive change in the tea world, and the Champawat estate that he runs is shaping the lives of those who work there for the better, leaf by leaf.
You might also like:
Do you have any questions you'd like us to ask our growing partners? Leave them in the comments section below.
Blog Author:
Raj Vable, Founder
He has been confounded by the leaf since his first transcendental encounter with white tea in 2010. Three years later, he started Young Mountain Tea to bridge his budding tea obsession with his interest in traveling in the mountains and previous experience creating job opportunities in rural India. He revels in working across cultures and can be regularly found trying to get the rest of the team on board with another outlandish tea project. His favorite teas remain white, and he's always searching for the next cup of magic.