Designing A Specialty Tea Factory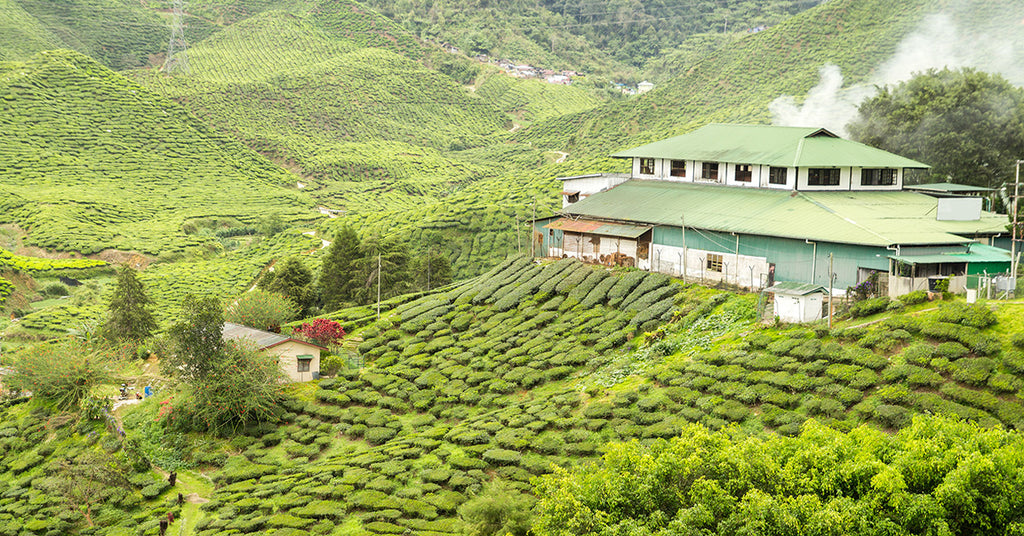 As I cut through the aluminum wrapper with a pair of red scissors in my cousin Akhil's kitchen, my excitement was at a near breaking point. Inside this bag was the first sample of Kumaon White tea to ever exist. Desmond had made it by my request in his rural Himalayan village of Champawat, a grueling 12 hour drive from the kitchen I was standing in, and after a battle with the India post, I had finally received it.
Gently shaking the contents of the sample onto a white plate, my first impressions were largely positive. The leaf looked right—whole leaf, a little more yellow than ideal, but most importantly, plenty of bud—one of the hallmarks of what makes white tea special. I'll never forget the feeling of elation that accompanied that first sip. It was a solid tea. Plenty of room for improvement, sure, but definitely enough to move forward with.
I had already determined that farmer ownership of a specialty tea factory was a pathway for empowerment, but making specialty tea that would command top dollar was a mix of art, science, and experience. And the tea would have to meet the mark for every single lot. The quality of that first cup of Kumaon White tea suggested it was possible, but the question in my mind was how to make it better and scalable?
Learning From The Best
My approach to answering that question was to seek out experts. Over the next four years, I toured as many tea factories as I could. From the massive operations in Assam where tea factories covered city blocks, to micro-factories in eastern Nepal where tea was processed in pots and pans in the kitchen, to the legendary estates in Darjeeling that made me literally tear up, the teas were so good. I visited them all, absorbing what I could.
However, there was one factory that stood out from the rest as a shining source of inspiration—the Tea Studio in the Nilgiris of south India. It was the crowning achievement of Indi Khanna, a veteran tea maker who had pulled together an all-star cast of partners, including the respected folks at Camellia Sinensis Tea House, who literally wrote the book that I consider my tea Bible. Indi and his daughter Muskan, the current Tea Studio manager, had brought specialty tea processing equipment from China to their factory, where they were taking Indian tea to new heights. Indi was always generous in sharing lessons from launching Tea Studio, and has a zest for innovation, so he joined me and toured Kumaon, where his conclusion was the same as mine—something incredible was possible there.
Building The Tea Team
Our goal was to create a world-class tea factory, drawing on best practices from across tea-producing countries. There was only one person with the level of international experience to guide us: Nigel Melican, a renowned scientist who had grown tea in over 31 countries and was decorated with just about every award the tea world offers. 
But how to recruit someone of such caliber? The idea had been in the back of my mind the first time I met Nigel, on the floor of the World Tea Expo in 2015. It was our first time exhibiting, and there in the new business section (discounted booths for early stage companies!), he came by to try the very same lot of Kumaon White tea that I had sampled in my cousin Akhil's kitchen. I was buzzing with nervousness as I poured him a cup. To my surprise, however, he reached for the display of the tea leaf, and then ATE the tea! Chewing on it, in his clipped British accent, he said "I don't taste anything offensive." I decided to take it as a compliment and said, "Thank you. Would you like to visit the region it's from?" He gave me a knowing smile and moved on.
My first project with Nigel didn't have to do with making tea, but rather teaching about it. We organized an Indian Tea Tour in partnership with International Tea Importers, and Nigel served as our lecturer. Not by accident, I invited Desmond to join the trip for a visit to Tea Studio. One of the most charged moments of my tea journey was taking the picture above, which shows Desmond and Nigel leaning over the withering leaf in Tea Studio. A fast friendship formed between the two that was both endearing and electric. This rural Indian tea maker and world-renowned British tea scientist bonded over a shared love of the leaf and thirst for improving its quality.
The Tea Factory Design Process
Years later, with the support of USAID and Frontier Co-op, we were able to hire Nigel as a consultant to launch the Kumaon factory. The first two design decisions we had to tackle: how big to make the factory, and what types of tea to make in it?
Step 1: Choosing The Tea Factory's Size
The capacity of the factory would drive everything else—the building dimensions, the equipment sizing, the process flow, and a variety of other design parameters. The metric for a tea factory's size is annual production capacity, measured in kilograms (2.2 kg = 1 lb). On large estates, like those I toured in Assam, capacity can soar beyond 1,000,000 kg of made tea each year. Champawat was making 15,000 kg per year, but the surrounding villages had hundreds of hectares of young saplings that weren't being harvested yet, so we had to think about the potential for processing that future leaf as well.
We set our targets at 30,000 kg/year. This is still tiny compared to mega estates, but certainly large enough to provide several hundred farmers with a place to sell their harvest, and the right size for ensuring quality we could stand behind.

Step 2: What Teas To Make
The second and most exciting decision was what kind of tea to make. On one hand, a few dazzling teas would fetch the high prices necessary to make the venture financially feasible, and create an international buzz about a new tea origin. On the other, we wanted to ensure that we had something that would have wider appeal so the average tea drinker could enjoy it. The long-term vision is for this to be the first of many farmer-owned Kumaon factories, so we wanted to make sure we had teas that everyone would enjoy.
We developed a dual approach to create teas for both the tea afficiandos and casual tea drinkers alike. The equipment list we worked on over and over was intended to make 50% high-end expensive teas, and 50% less-exotic-yet-solid teas.
Nigel joined us for a visit in October 2022 and over many cups of tea, we settled on a list. Next, Nigel set to work creating a floorplan. He shared those hand drawn plans, and our graphic designer converted them into drawings. At the time of writing, we're now passing these drawings, being unveiled here for the first time, to architects to make into structural drawings. We hope you enjoy, and leave a comment to let us know what you think!


Want To Know More About How You Can Change The Tea Industry?
LEARN MORE
You also might enjoy:

Blog Author:
Raj Vable, Founder
He has been confounded by the leaf since his first transcendental encounter with white tea in 2010. Three years later, he started Young Mountain Tea to bridge his budding tea obsession with his interest in traveling in the mountains and previous experience creating job opportunities in rural India. He revels in working across cultures and can be regularly found trying to get the rest of the team on board with another outlandish tea project. His favorite teas remain white, and he's always searching for the next cup of magic.