November 2017 Newsletter - Leaf Piles of Plenty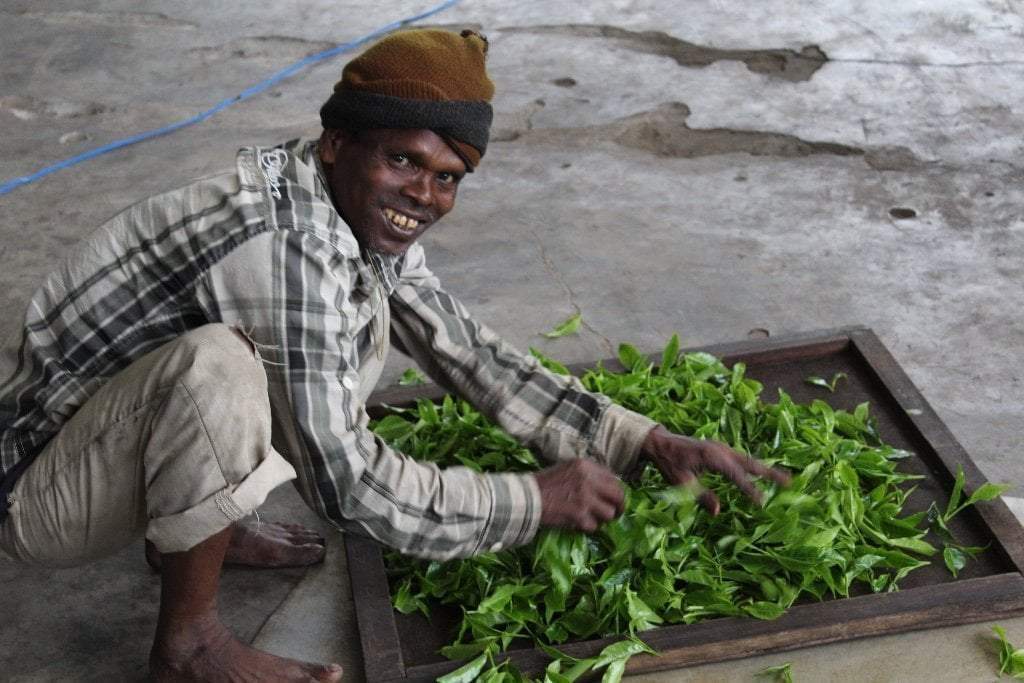 This farmer is sorting fresh picked tea leaves in Assam before arranging the leaves on screens where they are steamed over a wood fire, rolled, and finally dried. 

 
Leaf Piles of Plenty
As the rakes and leaf piles appear - it only fitting to pay tribute to our favorite leaf, one that produces the MOST consumed beverage in the world after water (any guess on #3? Answer at bottom).

Tea comes from a tree called Camellia sinensis. Once new growth appears in the spring, farmers pass through the rows every 7 days selecting certain parts of the plant for processing.  It takes about 5 lbs of green leaf to make 1 lb of finished tea. Those leaves are carefully transported from field to factory where they are withered (to reduce water content), rolled (to break the cell wall), oxidized, and then dried. 

In the spirit of Thanksgiving, we are including a free 1 oz bag of Kumaon Blackwhen you place an order of $15 or more in the month of November.  And if you would like to see for yourself where this tea comes from, join us on our Kumaon India Tea Trip (next trip is in May 2018).  

Please join us as the tea season brews on with several upcoming tea festivals in Vancouver (Nov 4-5) and San Francisco (Nov 12) and LA (Dec 2-3). Bottomless cups on us! 

(So what is the 3rd most consumed beverage in the world?... You guessed it... Beer).
IndieGoGo Wrap-up
Thank you everyone who supported our Global Tea Exchange initiative.  You helped us raise $15,000 - enough to move forward with developing a program to build the next generation of Himalayan tea makers. We'll treat 2018 as the pilot year.  Stay tuned to see the program develop. 
Kumaon Black -
Tea of the Month 
Kumaon Black has become the backbone of our tea collection.  Its fine texture and high bud count steep into a dark and rich amber colored body with caramel undertones.  We are the only known direct importer of teas from this region in the US. Learn more here...

Buy $15 worth of tea in the month of November and we'll treat you to a 1oz bag of Kumaon Black for free!
Travel to Origin - Kumaon, INDIA
Dive into the heart of Young Mountain Tea and see where the company began in Kumaon, India.  Visit tea gardens, step into tea processing facilities, and meet the folks behind all aspects of production. And along the way, you might find yourself rolling a stack of roti or getting caught in a game of cricket...


Early Bird registration special runs through December 15th. 

We'd love to tell you more!  Please contact ingrid@youngmountaintea.comfor more information.
Join us on Instagram - Specials and Giveaways

Share some of your favorite tea inspired moments!  Join us on

 

Instagram

 

 and follow @youngmtntea to learn about monthly promotional discounts and specials, meet our Indian partners, and learn more about the world of tea.
 
"The mountains are calling and I must go." - John Muir